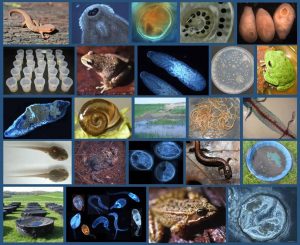 Contact Information:
Lisa Belden
Professor
Office: 4088 Derring
Lab: 4105 Derring
Email: belden@vt.edu
Phone: 540-231-2505
Mailing Address:
Dept. of Biological Sciences
926 West Campus Drive (0406)
Virginia Tech
Blacksburg, VA 24061
Interested in graduate research?
Thanks for checking out my website and for your interest in potentially joining our lab group here at Virginia Tech.  I've compiled some general information about graduate studies in my laboratory.  I will next be accepting graduate students for fall, 2019.
I run a collaborative research group and am looking for bright students with broad interests and a passion for biology.  I expect all my students to be interested in all the projects in the lab, regardless of whether or not they are directly in line with their own research priorities.  I also look for students who have good social skills, a sense of humor and are likely to interact very well with other members of the lab.  During interviews, potential students meet with the current graduate students.  The opinions of my students that are developed during those meetings are weighted heavily in the decisions I make regarding who I accept into the lab.
What I ask of students interested in the lab is the following: (1) a copy of your CV with GRE scores (the GRE scores are for the University to make sure you meet the minimum requirements) and (2) a 1 page outline of a few project ideas that you would be interested in if you were to join the lab, a summary of your past research experience and a little bit about your career goals.  I use that to gauge where your specific interests and skills fit with both my interests and with other students already in the lab.
Links to check out if you are interested in the Virginia Tech graduate program in Biological Sciences:
Department of Biological Sciences Graduate Program
Virginia Tech Interfaces of Global Change graduate program
Virginia Tech Graduate School
Interested in undergraduate research?
Undergraduates are important and much appreciated members of the Belden lab. They assist with all of our research projects to varying degrees and sometimes complete their own projects as well. Each semester we have between 2-5 students working in the lab. Please email Dr. Belden to inquire about available positions before submitting an application.
Students are required to sign up for field study credit for their first semester in the laboratory.  An evaluation will be completed at the end of that semester.  If there is mutual interest in continuing, students can register for undergraduate research credit in subsequent semesters. There is also a mandatory weekly meeting each semester.
If you are interested and have contacted Dr. Belden, the application can be found here.